League Leadership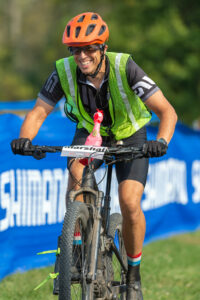 John Leitzel
Position: League Director and Chief Course Setter
john@indianamtb.org
John has loved riding his bike for as long as he can remember—despite knocking out his baby teeth as a child, he's never lost his love for riding.  That love affair got serious during graduate school, especially once he and his wife, Karen, got their first tandem in 1994.  A former track and road racer, John would commute through the streets of Chicago in the mid-nineties.   John & Karen still connect by riding tandem together (preferably daily!), and John still commutes to the office by bike—now enjoying the calmer rail-trails and streets of northwest Indiana.  John enjoys riding just about anything with pedals, and will happily ride just about anywhere.
John holds an earned doctorate in synthetic bio-organic chemistry and is a former university professor.  He currently serves as pastor at Mercy Hill Church in Munster, Indiana, and assists in indigenous leadership development for church partnerships around the world.  John is the head coach for The Region Composite NICA team in northwest Indiana, and the happy father of former and current NICA athletes.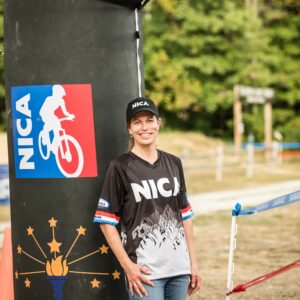 Lynn Elliott
Position:  Founding Committee, League Treasurer
lynn@indianamtb.org
Lynn remembers the fun and freedom her bike provided when she was a kid.  She has enjoyed biking throughout the years with friends and family. The past two years have been especially fun as she watched biking become her son's passion as he raced with his Midwest Devo Cycling Team.  It's now a regular weekend thing to travel throughout Indiana for a mountain bike or cyclocross race.
Lynn put her Marketing and Promotion career on hold after starting her family.  To maintain her professional skills since then she has managed her neighborhood homeowners' association for over ten years, managed a condo association, been the treasurer of a not-for-profit organization, and is active on the school PTO.  Lynn earned undergraduate degree in Telecommunications at Michigan State University and her Master's Degree at Aquinas College in Grand Rapids, MI.  She is married with two children.
One of Lynn's goals is to get kids off of electronics and onto a bike.  She is very excited to get more kids outside and biking with the help of local developmental teams, school groups and NICA.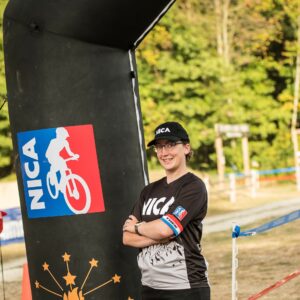 Daniela Gehrls
Position: GRiT Coordinator & Venue Surveyor
Daniela@indianamtb.org
Daniela used cycling as a means of transportation starting during her time at Indiana University studying music performance. While in school, she joined a Little 500 cycling team with her sister and got hooked into the cycling community. After moving back home, Daniela got a job at Trek Bicycle Store Schererville where she got to coordinate rides and events throughout Northwest Indiana. She now coaches middle and high school student athletes on The Region Composite mountain bike team. Working with the Indiana Interscholastic Cycling League allows her to focus on her passion of getting more girls and women on bikes more often which builds our cycling culture into a better place for everyone.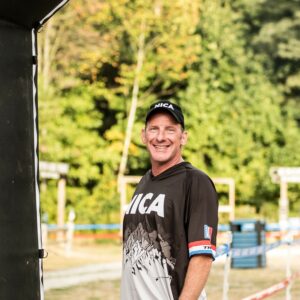 Mike Almert
Position: Founding Committee, League Communications/Media/Photographer
mike@indianamtb.org
Currently a Strategic Pricing Manager at Roche, Mike has experience in Marketing, Finance, Strategic Planning, and Sales.  Mike has held several positions with increasing responsibility during the past 18 years with Roche in several divisions.  Mike earned a BS degree in Business indiana University's Kelley School of Business, and an MBA from Butler University.  Mike has assisted the Indy Criterium, Indiana's largest cycling event, since 2011, and is a founding member of the group's Board of Directors.  Indy Criterium events raise funds for Freewheelin' Community Bikes and other local charities. Over the past 20 years Mike has served as an active volunteer for numerous charitable organizations and events in the Indianapolis area including the annual American Diabetes Association "Tour de Cure", helping to raise over $2 million and serving as Event Chairman from 2013 – 2016.
Mike has been a member and volunteer with the Hoosier Mountain Bike Association since discovering mountain biking about 10 years ago.  In 2016-2017, Mike helped build the IMPD mountain bike skills park which is now a great inner-city resource to promote cycling and a healthy lifestyle for Indianapolis youth. Mike has completed IMBA "Train the Trainer" sessions to help train MTB beginners of all ages.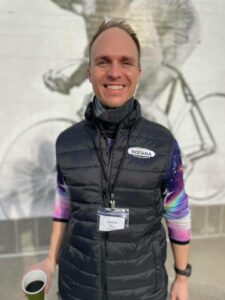 Aaron Muir
Position: Coach Supporter
aaron@indianamtb.org
Aaron's wife started mountain biking in 2006 and told him that he needed to learn how if he wanted to be ride with her.  So,  his friend Chris offered to show him the ropes,  so he wouldn't look like silly in front of his new girlfriend.  Aaron's friend loaned him a spare 2008 Trek, and took him to Town Run in Indy, and told him to "stand up if it looks sketchy".  Luckily, he was instantly hooked and his girlfriend was so impressed at his ability to fall over, sweat profusely, and fail repeatedly that she decided to marry him.  So fast forward to today, he is still crashing and tipping over regularly, but now he is getting injured a lot less and his wife has very good at patching him up.   Aaron's wife owns and operates her own Sports Medicine clinic.    He also enjoys playing on my bike in skateparks, downhill parks and above all empty parking lots.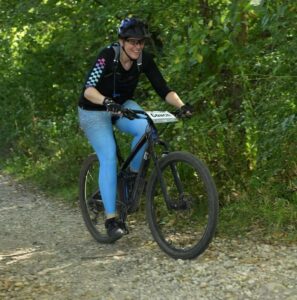 Dr. Jennifer Muir Bayer
Position: Medical Coordinator
Thank you to all our volunteers!

Founding Committee Members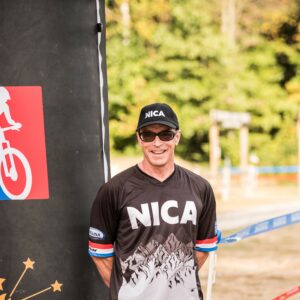 Kenney Green
Position: Chair of Founding Committee
Kenney has been riding a bike for well over 50 years. His love of cycling began as a recreational activity, exploring his hometown of Lebanon, Indiana. This passion expanded when he discovered bicycle racing in Bloomington, Indiana. He was a USCF-licensed road and track cyclist for 14 years. He also worked as a skilled extra in the movie "Breaking Away".
Kenney's professional experiences include Laboratory Biochemistry, Clinical Research, and Information Technology. He worked across many therapeutic areas and disciplines during his career. He sharpened and leveraged skills such as supplier management, risk assessment, project management, and business process improvements. Kenney retired in 2017 after 34 years with his employer. Now he hopes to find new opportunities to improve life in the community via cycling.

Bill Revard
Co-Owner The Bike Line, Inc.
Position: Founding Committee
Bill is a lifetime Indiana resident and grew up working in the family bicycle business.  Along with his brothers Charlie and Jimmy, Bill is a second-generation owner of The Bike Line, which was established in 1979.  He is a proud father of two sons: Thomas, an active pro cyclist with the Hagens Berman Axeon Cycling Team; and Will, a high school senior and avid mountain bike rider.
Bill and his brothers are "Trek Legend" dealers and are committed to Trek and NICA's mission of getting more kids on bikes and developing a strong mind and strong body through interscholastic cycling.  Bill is working with the founding members along with a network of Indiana Trek dealers to reach potential riders and develop high school teams around the state.

Dean Peterson
Coach: Marian University Cycling Team;  Director: Indy Cycloplex
Position: Founding Committee, Current Advisor
Dean has been racing bikes and coaching cyclists for more than 35 years. He is a USA Cycling coach, race director and world/national champion on the road and track. As Marian University's head coach for the past 13 years, Dean has grown the school's cycling program into one of the largest and most successful in the nation.
Dean is also Executive Director of the Indy Cycloplex (home to the Major Taylor Velodrome), and the founder and director of Power Booster, Indianapolis' premier indoor cycling studio. In his Cycloplex role he hosts several USAC and UCI cycling races each year. He has served on USA Cycling's Collegiate Committee since 2010 and on the boards of the Bicycle Action Project (1998-2004), The Orchard School (2009-2015), and currently on the board of USA Cycling.
Dean completed his undergraduate studies at Purdue University in 1988 before serving two years as a Peace Corps Volunteer. He completed his post-graduate studies at Butler University. Dean, and his wife Shari, live in Indianapolis and have two children.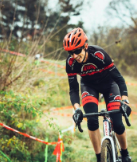 David Palmer
Position: Founding Committee
David is president of Midwest Devo and races the occasional gravel, cyclocross and mountain bike race.  He has overseen the growth of Midwest Devo into Central Indiana's largest youth development team across all disciplines and into a Midwest cyclocross powerhouse. In partnership with Marian University Cycling he has worked to get kids back into track cycling on the Major Taylor Velodrome in Indianapolis.
David moved from the UK to the US for three years with the global publisher Wiley…six years later he is still here and becomes more Hoosier by the day. He has three boys – they all race bikes.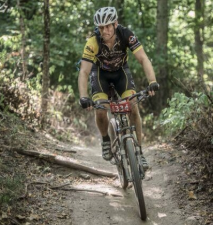 Bob Boehman
Position: Founding Committee
Bob has been mountain biking since 2000 after an impromptu trip to Denver Colorado when a friend suggested they rent bikes and go ride at Winter Park.  It has been a passion ever since. He has been racing since 2010. 
Bob has been a Teacher and Principal for twenty years now and began a club back in 2012 at his current school with the hope of someday having them participate in an Indiana NICA league.
With three young sons already taking to the sport, and the passion as an educator for kids, he is committed to helping grow a league in Indiana for a long time to come.  He is excited to grow this league so that kids across the state have the opportunity to experience a lifelong healthy activity, and connect with more people in life.  Bob lives in Avon, Indiana with his four kids. He holds BS and MS degrees from Indiana State University.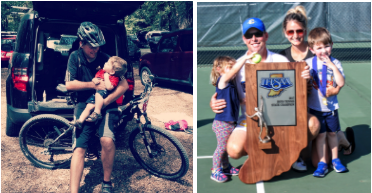 Spencer Fields
Position: Founding Committee
Spencer grew up riding BMX and quickly became a mountain bike enthusiast.  He has raced locally and supported the Indiana Mountain Bike scene for many years. He has two kids ages 6 and 4 who both love riding the trails together.  Spencer's specialty is not necessarily bikes though, he has coached 14 IHSAA State Champions in tennis and has been around high school teams for 20+ years. He is recognized in Indiana as a great high school coach and has helped thousands of student/athletes from area schools.  He sees a great future for NICA in Indiana and wants to see mountain biking grow at the high school level.